We would be happy to send you up to three free fabric samples.
Please send us a letter with a self-addressed stamped envelope.
For fur fabrics we recommend a franked C4 envelope (large envelope) with a 1.45 EUR stamp.

How it works:

1. Frank enough a labeled envelope with your address.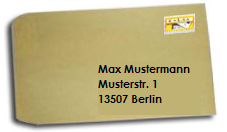 2. Fold this envelope and put it in a smaller envelope.
Please indicate absolutely the Model.-Nr. of the desired samples. You find the Model.-Nr in the shop in the item description. We recommend to indicate your telephone number for inquiries.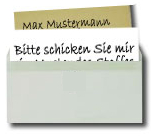 3. Label the little envelope at the following address.
GN Group - Stoffbook
Musterbestellung
Turm 10/UG Links
Sterkraderstr. 49-59
13507 Berlin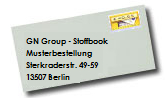 Now just send the letter and wait a few days.



---
more informations


Number of samples
Up to three samples are available free of charge from us or sent by sending a stamped self-addressed return envelope.
fabric type
You can order samples of any of our fabrics.
Size of the samples
The patterns are up to about 8 x 5cm.
We can not offer larger samples for financial reasons. If you need larger samples , you have the option to purchase in store the goods starting from 10cm.